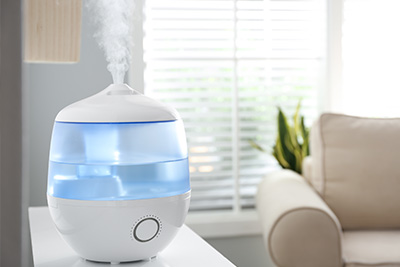 Throughout most of the U.S., winter weather means drier air. That dryness can cause a variety of problems, including structural damage to homes and furniture, physical discomfort and overly dry eyes, skin and sinuses. You can counteract these effects by using humidifiers at home, but you have to be careful – too much humidity in wintertime can cause a different type of damage.
What Is a Humidifier?
A humidifier is an appliance that adds moisture to the air, usually within a specific room or structure. There are a variety of humidifier types that create moist air in different ways and at different capacities, but they're all commonly used to maintain a safe and comfortable relative humidity level indoors.
What Is Relative Humidity?
Relative humidity is the most common measure of humidity we use in indoor spaces. It's the ratio of the current humidity level to the maximum possible humidity level, which varies with air temperature. Warmer air can hold more moisture than colder air, so the relative humidity of a cold space will be higher than the relative humidity of a warm space, even when the absolute humidity of both spaces is the same.
The optimal relative humidity for indoor spaces is between 30 and 50 percent, according to the Mayo Clinic, but there are some exceptions, which we'll get into below. You can measure the relative humidity around your home with a device called a hygrometer; handheld digital hygrometers are inexpensive and widely available at hardware stores. If your relative humidity is too low, you can raise it with the use of humidifiers, and if it's too high, you can lower it with dehumidifiers.
Does Humidity Make It Feel Hotter?