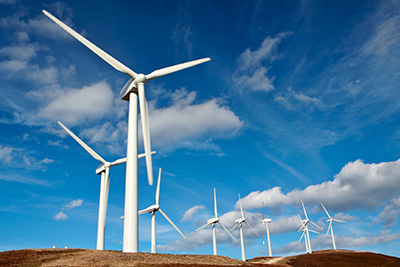 Modern wind turbines are capable of generating tremendous amounts of electricity, but there's nothing new about harnessing the wind for energy. Wind filled the sails of ancient ships that sailed the seas thousands of years ago, and by the Middle Ages, windmills were a common tool for grinding grain and pumping water. The massive turbines you'll find dotting plains and coastlines today are just the latest iteration of one of the most powerful forms of renewable energy there is.
Let's take a closer look at how mankind has tamed the wind and used it to power a cleaner planet.
What Is Wind?
Before we get into wind energy, we should take a moment to examine what wind is and where it comes from.
Wind is the movement of air from a high-pressure air system to a low-pressure air system. When climate, weather patterns and sunlight cause an area to be cold, that creates a high-pressure system filled with dense air. And when those same factors cause another area to be warm, it creates a low-pressure system. Air naturally wants to move from areas of high pressure to those with low pressure, and the greater the difference in pressure, the faster the air moves.
How Does Wind Energy Work?
There are all sorts of ways to use wind, some of which don't require any technology at all. When you hang fresh laundry outside on a sunny, breezy day, you're using both wind and solar energy to conserve the electricity or gas you would use with your dryer. Some of our earliest technological innovations in wind energy, including sailing and old-fashioned windmills, are still commonly used today. Wind is a renewable resource that can be replenished, unlike fossil fuels such as coal, oil and natural gas.
But the future of high-powered wind energy is in towering wind turbines that generate electricity. The designs of these modern turbines are sophisticated and undergoing constant innovations of their own, but the underlying principle that makes them work is actually very simple.
How Do Wind Turbines Work?
The propeller-like blades of a turbine are aerodynamically designed to turn easily under the force of wind, which rotates the shaft to which they're attached. The shaft is connected to a generator, which produces clean, renewable electricity whenever the wind blows.
This form of wind energy started gaining momentum in the early 2000s, when most electricity was produced by hydroelectric technology and fossil fuels. But in 2019, wind overtook hydroelectricity as the most common source of renewable electricity in the U.S., and has continued to expand its role as a core source of the nation's energy supply.
How Much Energy Does a Wind Turbine Produce?