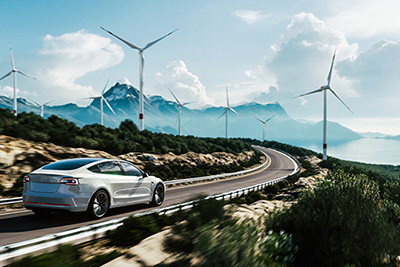 How Do Electric Cars Work? 
Unlike gas-powered vehicles, which draw their power from fuel-burning internal combustion engines, electric vehicles get their power from a large internal battery. This battery is primarily charged by plugging the car into a charging station or electrical outlet, though some models generate additional electricity through features like solar panels and regenerative braking. 
The battery itself is a technological feat. It's similar to the batteries inside our favorite gadgets, but much larger in both size and capacity. Electric car batteries are lithium-ion, which is different from the lead acid batteries you'll find under the hood of most traditional vehicles. These batteries come in a variety of capacities, and the larger the capacity, the farther the car can travel on a single charge. 
In place of the gas-powered internal combustion engine is an electric traction motor that uses electricity from the battery to power sets of electromagnets. Just as you can use refrigerator magnets to invisibly "push" one away from the other, the electromagnets inside an electric car repel each other to turn the drive shaft and the car's wheels. Other systems like heating, air conditioning, lights and radio are all powered directly from the battery as well. 
Even though electric cars are powered by today's most sophisticated technology, their overall design is much simpler than that of gas-powered cars. Electric cars have fewer parts, and as such, need less maintenance. You'll never take an electric vehicle in for an oil change, transmission work, belt replacement or spark plugs – but you will need to periodically replace the tires and brakes. Between the lack of routine maintenance needs and the potential cost savings of electricity over gasoline, the average monthly operating cost of owning an electric car is often lower than that of an equivalent gas-powered vehicle.