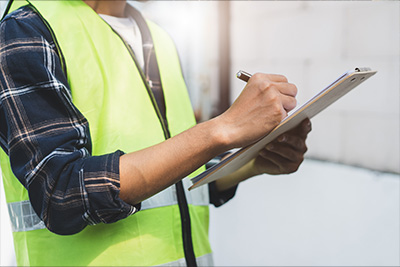 The extreme heat of summer can really do a number on your energy bills. But if you're able to invest a little time and money into weatherizing to keep your home cool, you can help yourself and your family remain comfortable at home while still saving energy. Be sure to also weatherize your home in the winter to save on your energy bills without sacrificing comfort.
Let's get into our favorite summer weatherizing tips!
Schedule a Home Energy Audit
You can't properly weatherize your home if you don't know where your problem areas are. And some of those problems can be hard to find, such as air leaks around recessed lighting or hidden gaps in your ductwork.
When you arrange a professional home energy audit, a small team of specialists will conduct a series of tests using infrared cameras, air pressure equipment and other technologies to identify and measure your home's energy leaks. Upon the completion of an energy audit, you should receive a detailed report with specific recommendations for repairs and upgrades that will help you reduce your energy bills. If you want to know how to keep your house cool in summer and warm in the winter, your customized energy audit report will tell you.
Make a Plan for Major Upgrades
While there are many low-cost home upgrades that can help you save energy during the summer, a few things require bigger investments. Replacing windows and doors can make a huge difference, especially if they're decades old or in disrepair. Installing a new air conditioner can also be a game changer if your unit is more than 10 years old. But for most homeowners, these upgrades require planning and financing. If you're not in a position to weatherize windows for summer or invest in other big upgrades now, you can use this time to make a financial plan to replace them later.
Tune Up Your Air Conditioner
For air conditioner and furnace efficiency, annual maintenance is key. A well-maintained air conditioner should provide you with reliable service all summer long, but to keep it in great shape, it should be serviced at least once a year by a licensed HVAC technician. A routine air conditioner tune-up consists of a thorough inspection, thermostat calibration, lubrication and other proactive tasks that can help prevent sudden breakdowns. Try to schedule this service in the spring, if possible, so that your system is in good working order before the dog days of summer.
Install a Smart Thermostat
The simplest thermostats can only be controlled when you're standing right in front of them. Programmable thermostats are more sophisticated, allowing you to set cooling schedules based on when people will be home. But the best thermostats are smart thermostats, which connect to the internet and can be controlled from anywhere with a smartphone or tablet. These thermostats make it even easier to set cooling schedules, and if you ever change your plans, you can set a new temperature from anywhere with a few quick taps to ensure you're coming home to a comfortable house. Some smart thermostats can even "learn" your routine and preferences, making automatic adjustments to help you save energy.
Check for Air Leaks
Even if you don't have a professional energy audit conducted, you can still search for air leaks on your own. Visible wall cracks and gaps around plumbing pipes can be patched or filled in with spray foam insulation. You may also be able to find hidden air leaks by using a draft detector, which is a handheld device that emits a smooth stream of odorless smoke. As you slowly walk the draft detector through your home, drafty areas will reveal themselves by disrupting the flow of smoke.
Some of the most common areas for air leaks are around windows and doors. Most windows and doors use rubber weather stripping to seal off small gaps, and this material can become brittle with age. If you're unsure whether a section of weather stripping is in need of replacement, try closing a dollar bill against the stripping in the door or window and gently pulling it out. If it pulls out easily, it's time for replacement. DIY weather stripping kits are available at most hardware stores.
Inspect Your Attic