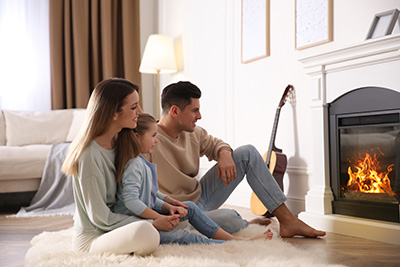 A fireplace isn't always the most cost-effective way to keep warm, but there's more to life than energy efficiency. A crackling fire is cozy and atmospheric in ways that traditional forced-air heating can't match. And in the case of wood-burning fireplaces, it can also mean a lot of work and mess – which is why many homeowners opt to install gas fireplaces.
A natural-gas-burning fireplace can deliver all the warmth and whimsy of a wood-burning fire at the touch of a button. But how much does it cost to run a gas fireplace? The answer will take a little bit of number crunching and perhaps a close examination of the room where your gas fireplace is installed.
Calculating the Cost to Run a Gas Fireplace
While there are several factors that affect the true overall cost of running a gas fireplace, calculating the cost per hour of a specific gas fireplace is fairly simple. To start, you need to identify two data points: the gas fireplace's BTU rating and the price of natural gas.
BTU stands for British Thermal Units, and one BTU is equivalent to the amount of heat required to increase the temperature of one pound of water by one degree Fahrenheit. For gas fireplaces, the BTU rating tells you how many BTUs the fireplace will consume in one hour at full, standard power. The easiest way to check the BTU rating of a gas fireplace is to refer to the original manual, but if that's not available, you should be able to find the information on the fireplace itself. 
The BTU rating, serial number, model number and other information is typically stamped or printed on a metal plate. This is usually located behind an access panel, along with the other hidden components of the fireplace. Depending on the gas fireplace's type and size, the BTU rating could range from as low as 10,000 BTU to more than 100,000 BTU.
Next, check the price of natural gas. Utilities typically calculate natural gas in therms, with one therm equaling 100,000 BTU. You can check your last utility bill to see the price you were charged per therm during your last billing cycle, or you may be able to find a more up-to-date price on your gas utility's website. Keep in mind that the cost of natural gas can fluctuate significantly and varies by location. According to the Bureau of Labor statistics, the national average price of natural gas per therm was $1.67 in December 2022, compared to $1.04 just five years earlier. Also in December 2022, the price per therm varied from $1.13 in Alaska to $2.87 in Miami – with an extreme outlier of $6.47 in Hawaii. 
Now it's time to calculate the cost to operate your gas furnace per hour. As an example, let's say your gas fireplace is rated at 40,000 BTU and your natural gas is priced at $1.67, the national average from December 2022. First, multiply the BTU rating by the price of gas per therm, then divide the product of that calculation by 100,000.
40,000 x $1.67 = 66,800
66,800 / 100,000 = .668
.668 ≈ .67 cents per hour
This calculation gives you a helpful estimate of how much it will cost to run a gas fireplace for one hour, which you can then extrapolate to estimate the total monthly cost based on how frequently you use your fireplace. But as you'll see below, there are several other factors that can affect the overall cost of running a gas fireplace.
What Can Increase the Cost to Run a Gas Fireplace for Heat?