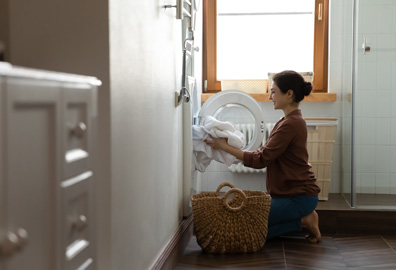 Because there are gas dryers that meet high energy efficiency standards, you might assume that those dryers are better for the environment than less efficient electric dryers. But not everyone agrees that the link between energy efficiency and environmental friendliness is so simple; as of 2022, ENERGY STAR has stopped listing gas-powered appliances in its "Most Efficient" listing.
The reasoning behind this change is that electricity can be generated through clean, renewable sources like solar, wind and hydropower, while natural gas will always be an inherently carbon-producing fuel. Even though much of our electricity supply is still generated by burning fossil fuels including natural gas and coal, we're steadily replacing those sources with renewables, which is making electricity an ever-cleaner energy source. So when you're considering long-term environmental friendliness, electric dryers have the edge.
Installation
Gas and electric dryers require different types of hookups. Gas dryers need to be connected to an accessible natural gas line, so if there isn't one available, it will need to be installed. They must also be vented to the outdoors, which can limit the locations where it's practical to install a gas dryer. Most gas dryers plug into a standard 120-volt outlet.
Electric dryers do not need gas line access, but they plug into 240-volt outlets, which should be professionally installed by electricians. Most electric dryers also vent to the outdoors, but this is only to expel hot, humid air – not dangerous gasses. If you need to install a dryer in an area that doesn't have convenient vent access, there are ventless electric dryers designed for those circumstances. 
It's common for homes to have a designated laundry room with washer and dryer hookups, and for that room to have hookups for a gas or electric dryer – but not both. In a home that is only set up for one type of dryer, it often makes financial sense to stick with that type. Installing a new gas line branch or 240-volt outlet typically costs a few hundred dollars or potentially more, depending on the complexity of the installation.
Purchase Price and Repair Costs
Gas dryers typically cost more to purchase; when you see two models that are identical with the exception of the energy source, you should expect the gas dryer to be at least $100 more. As with all gas appliances, most repairs should be left to qualified technicians for safety's sake, which can make maintenance and repair costs more expensive, too.
In addition to their lower purchase prices, electric dryers can be cheaper to maintain because they don't require special skills to make many common repairs. If you need to replace the belt or a sensor, you may be comfortable taking it on as a DIY project.
Safety