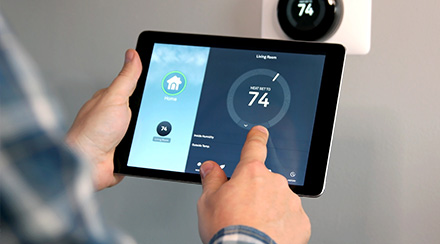 What Is a Smart Thermostat?
The smart thermostat is an improvement upon the programmable thermostat, which allows users to program heating and cooling schedules so that there's less energy waste when the home is empty or occupants are asleep. 
Smart thermostats do this and more – they're connected to the Internet, which means you can control your thermostat from anywhere using a smartphone or tablet. And most smart thermostats are supported by user-friendly apps that make it easy to create and modify heating and cooling schedules. 
How Do Smart Thermostats Work?
Not all smart thermostats work exactly the same, but their common trait is that they're designed to be connected to the Internet. So if you're thinking about upgrading to a smart thermostat, having a reliable Internet connection is a must.
Smart thermostats communicate with your heating and cooling equipment just like traditional thermostats do. The difference is in how they communicate with you – especially when you control them using a mobile app. These apps make heating and cooling schedules quick and easy to create, which means users are more likely to use this energy-saving feature. They also allow thermostat control from anywhere, so if your schedule changes while you're away from home, you can adjust your thermostat manually with a few taps.
Some smart thermostats have advanced features, such as the ability to "learn" your schedule and habits. If you want the most automated HVAC system possible, these learning thermostats are designed to help you reduce energy consumption without even having to think about it. 
Some models use geofencing technology to recognize when you're moving closer to home so that the temperature is optimal when you arrive, some use motion sensors to detect when your home is unoccupied and some offer detailed reports on your energy habits to help you identify more ways to conserve. Many models are compatible with home speakers so that you can control your thermostat by voice.