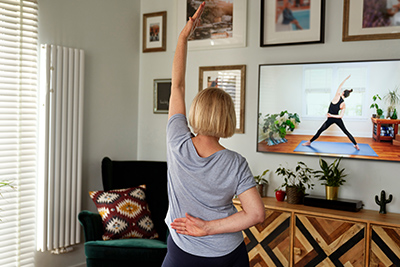 Even if you know your TV's exact wattage and tend to stick to the same TV watching schedule, the energy usage you calculate may not match the reality exactly. That's because there are several factors that can affect the actual amount of electricity your TV consumes. Here are some of the most significant variables: 
Screen brightness. This can have a dramatic effect on the true amount of electricity a TV is using. The higher the brightness, the higher the energy use. To save energy, try to keep the brightness at the lowest setting that allows you to clearly see what's on the screen. Some TVs are equipped with sensors that can automatically adjust the brightness based on light levels in the room. 
Quick startup. Many TVs have a "quick startup" setting that allows a TV to turn on slightly faster than it would otherwise. The tradeoff is that TVs use slightly more energy in standby mode when this setting is turned on. If you don't mind waiting an extra couple of seconds for your TV to start, you can save some energy by turning this feature off. 
Heat. Some TVs produce more heat than others, and higher heat levels often lead to higher electricity consumption. To help minimize this, make sure the area around your TV is well ventilated, and locate your TV away from sunny, unshaded windows. 
Running time. Leaving your TV on when you're not using it simply wastes energy. If you have a bad habit of leaving the TV on, check the settings menu for a sleep timer that can automatically turn it off for you. 
The specific type of TV you have can also affect the amount of energy it uses. Most TVs manufactured today are LED (light-emitting diode) or OLED (organic light-emitting diode). These types are comparable in terms of energy consumption, though OLED TVs use more energy on average. 
Older TVs, like plasma TVs and CRT (cathode ray tube) TVs, consume significantly more electricity than modern TVs. Plasma was once a popular alternative to CRT technology due to its higher picture quality, but its energy demands are enormous. And before plasma came along, virtually every TV was a CRT, which also consumes several times the amount of electricity of a LED or OLED TV. If you're using one of these older sets, you can save a bundle on energy costs by upgrading. 
Other Ways to Measure and Estimate TV Energy Use 
If you're in the market for a new TV, keep an eye out for "EnergyGuide" labels. These labels are black and bright yellow, and TV manufacturers are required by law to make them available for every new TV they sell. EnergyGuide labels provide estimated annual operating costs at a glance, and because these labels are based on standardized kWh prices and duration-of-use estimates, they make it easy to compare the energy efficiency of different TV models. 
If you want the most accurate electricity consumption data possible, you can also invest in an electricity usage monitor. These devices are as easy to connect as plugging your TV into a power strip, and they'll display your TV's real-time electricity consumption. So if you're curious about just how big a difference it makes when you adjust your screen brightness or use certain smart TV apps, an electricity usage monitor will put that data at your fingertips.
Looking to save energy around your home and lower your monthly bills? Check out our favorite energy-saving tips.