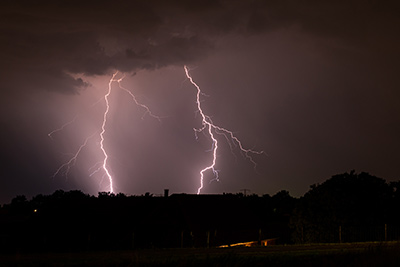 Lightning Safety
Lightning strikes can be destructive and deadly. When lightning strikes structures or utility lines, it can start fires, cause physical damage, temporarily electrify surfaces and damage appliances and electronics by causing power surges. When lightning strikes people, it can cause death, cardiac arrest, burns and several other short- and long-term medical issues.
What is lightning?
Lightning is a sudden discharge of electricity that occurs after a significant buildup of oppositely charged particles within a storm cloud. Moments after a lightning strike, you may hear thunder.
What attracts lightning?
Contrary to popular belief, metal does not attract lightning – it's merely a good conductor of electricity. Lightning strikes are actually attracted to tall, isolated structures, especially if they have a pointy shape. Lightning rods designed to safely attract lightning are effective not because they are metallic, but because they are the highest point in a given area.
If you hear thunder or see a thunderstorm warning reported by local media, you should stay indoors whenever possible. If you cannot get indoors immediately, avoid tall or isolated structures, which can include trees and utility poles. When lightning strikes a person, paramedics should be called immediately. CPR should be administered, when possible, if the person is unresponsive.
What happens if lightning strikes your house?
While rare, these strikes can occur, potentially causing instantaneous structure fires and damage, even to nonflammable materials like brick, concrete and stone. The immediate risk in these instances is of spreading fire or structural instability. Call 911 immediately and leave your home to seek nearby shelter if an out-of-control fire starts.
As a secondary concern, a lightning strike can cause severe power surge damage if it travels through the wiring of your home. This can be especially damaging to sensitive electronics like computers, televisions and handheld gadgets, but may also damage major appliances like refrigerators, washers, dryers, dishwashers and ovens. A severe power surge may even damage your home's wiring and circuitry itself.
Wind Safety
In addition to lightning strikes, strong winds can cause damage and add to the danger during storm conditions. The National Weather Service issues a variety of alerts to warn of dangerous winds, including:
High wind watch - Strong, sustained winds are possible
High wind warning - Strong, sustained winds with stronger gusts are occurring
Wind advisory - Same as a high wind warning, but with slower wind speeds
Severe thunderstorm watch - A severe thunderstorm capable of producing 58 mph winds or faster is possible
Severe thunderstorm warning - A severe thunderstorm capable of producing 58 mph winds or faster is occurring or imminent
Hurricane force wind/gale warnings - Issued in coastal regions when high winds are predicted
Dust storm warning - Issued when visibility is reduced to half a mile or less due to blowing dust or sand from sustained or gusting winds
When strong winds are predicted, you should prepare by bringing pets and children indoors, securing loose or lightweight objects that are outdoors on your property and storing your vehicles in a garage, if possible. While strong winds are ongoing, stay inside whenever possible and reduce your speed if driving. If you see downed power lines, you should call your local police or electrical utility to report the damage while avoiding the area.