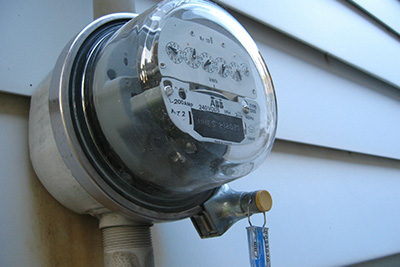 On a traditional electricity meter, kWh is displayed on a series of dials that must be read from right to left. The dials are numbered from 0 to 9, and some dials turn clockwise while others turn counterclockwise. 
When the needle of a dial is between two numbers, the correct number is the lower of the two. The exception is when the needle is between zero and nine, you should read it as nine. When the needle is directly on a number, check the next dial to the right. If the needle on that dial has not yet reached zero, the actual reading of the dial to its left is one digit lower than the number indicated by the needle.
It's important to note that the electricity meter reading does not reflect your monthly consumption. It's a running total of electricity use, and when electric utilities read your meter, they subtract the previous month's reading from the latest reading to calculate your electricity use for that month.
How to Read a Digital Electric Meter - or Smart Meter 
Traditional electricity and natural gas meters have been in place for decades, but their major limitation is that they have to be read each month in person by a utility employee. To become more efficient, electric and natural gas utilities are gradually upgrading their metering infrastructure with smart meters, which can communicate energy data to the utilities wirelessly and in real time. Smart meters can also be used to remotely connect and disconnect service, which usually requires a visit from a utility technician in most other situations. 
If you have a smart meter, your consumption data will appear on an easy-to-read digital display. In most cases, this will still appear as a running total, not the consumption for the current billing cycle.
Most of the time, you can continue to ignore your electricity and gas meters as they silently track your energy consumption. But if you ever want to double-check your reading, verify whether your home is using energy or simply see your meter in action, step outside and get a good look for yourself.
How to Read the Gas Meter