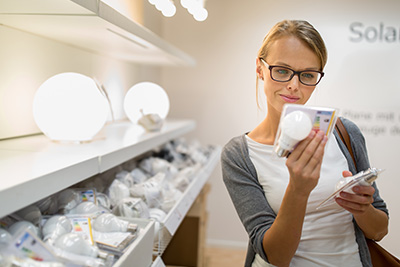 When incandescent light bulbs were the norm, we measured brightness in watts. The higher the wattage of a bulb, the brighter the light. But now that we're using LED bulbs with such a low and limited range of wattages, we need a different unit of measurement to compare brightness: the lumen.
Lumens are to light what decibels are to sound – and lumen counts have nothing to do with wattage. To replace a 100-watt incandescent bulb with an LED, you'll want a bulb that produces roughly 1,600 lumens. For a 75-watt bulb, 1,100 lumens is a comparable output, followed by about 800 lumens for a 60-watt bulb and 450 lumens for a 40-watt bulb.
To help consumers compare and choose light bulbs, the Federal Trade Commission requires light bulb manufacturers to print a lighting facts label on their packaging. This label will show you the bulb's brightness in lumens, the wattage, the estimated annual energy costs and the estimated lifespan of the bulb. It will also show you where the bulb falls on the spectrum between cool and warm light, with cooler lights appearing brighter and sometimes blue-tinted, and warmer lights appearing softer and more yellow.
Beyond LED Bulb Wattage
Lower wattage isn't the only way switching to LED bulbs can help you conserve. As mentioned above, LED bulbs last longer – up to 25 times longer, according to the Department of Energy. That means fewer light bulbs end up in landfills, and it also means fewer bulbs need to be shipped, which further reduces the carbon footprint of our lighting.
LED bulbs also produce much less heat than incandescent bulbs, which can help reduce the strain on air conditioning in the warmer months. And LEDs are not only more efficient in their use of electricity, they're more efficient in their use of light. LED light bulbs are highly directional, whereas incandescent bulbs cast light in every direction. You'll need to use a reflector when using an incandescent bulb for a directional spotlight or accent light, and this will absorb some of the light – but with an LED, you can direct all of the light energy exactly where you need it.
More Ways to Conserve Energy