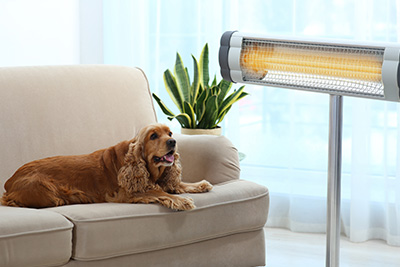 The cost of space heater electricity use is fairly easy to calculate. All you need to know is your space heater wattage and your current rate for electricity. You'll usually find a space heater's wattage listed on a tag or plate somewhere on the appliance – look for a number followed by a "W." If you can't find the wattage, try searching for the space heater's model number online. To verify your electricity rate, just check your most recent electric bill. Electricity is billed in kilowatt-hours, or kWh.
The formula to calculate your space heater operating costs is:
Space heater wattage x electricity rate / 1,000 = cost of operation per hour
So if your space heater is 1,500W, which is about average for an indoor space heater, and your electricity rate is 13 cents per kWh, your calculation would be:
1,500W x 0.13 = 195
195 / 1,000 = 0.195
This model will cost about 19.5 cents per hour to operate. That comes out to about $1.56 for eight hours and $4.68 for 24 hours.
Choosing an Energy-Efficient Space Heater
Unfortunately, space heaters aren't evaluated by ENERGY STAR and aren't required to have an EnergyGuide label, so there is no objective way to tell at a glance whether a particular model is energy efficient. But it is possible to shop for a space heater wisely, and because you know the formula for calculating a space heater's hourly operating costs, you won't be surprised by the impact on your electric bill.