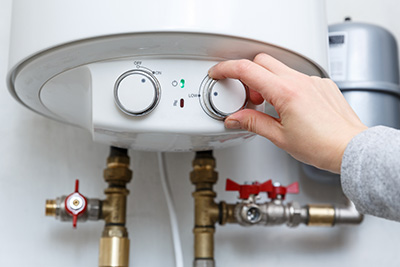 Unless you like taking cold showers, water heating is probably not something you can live without. But did you know that your water heater is one of the biggest energy consuming appliances in your home?
According to the U.S. Energy Information Administration, water heating accounts for 19% of the energy use in the average U.S. home. But this can vary quite a bit depending on what type of water heater you have, what kind of shape it's in and how much hot water you use.
Let's take a closer look at the different types of water heaters and best practices for saving energy on hot water.
How Does a Water Heater Work?
There are several types of water heaters, and they work differently in terms of energy sources and heating mechanisms.
How Do Gas and Electric Tank Water Heaters Work?
The most common type of water heater in the U.S. is a tank water heater, in which water is stored in a large tank and maintained at a high temperature on standby. These typically use either electricity or natural gas to power a heating element inside the tank, though some models can be powered with propane or heating oil.
Hot water is drawn directly from the tank, which automatically refills itself as needed. This means that the water temperature may gradually decrease during periods of heavy use, and that you may temporarily run out of hot water altogether.
How Does a Tankless Water Heater Work?
Tankless water heaters take up much less space than conventional tank water heaters, and they heat water instantaneously when you turn on a hot water tap. That means you don't have to wait as long for the water to heat up, you won't spend energy maintaining the temperature of stored water and you won't run out of hot water during periods of heavy use.
Tankless water heaters cost more to purchase and install, but they're more energy efficient overall than conventional models, and can pay for themselves in time with energy savings.
Are There Other Types of Water Heaters?
Though less common, there are a few other types of residential water heaters. Solar water heaters use storage tanks, similarly to conventional water heaters, but they're typically installed on rooftops and use integrated solar panels to help power the heating elements. Heat pump water heaters work by moving heat from one place to another, much like refrigerators do, but they're only practical for use in certain temperate climates. There are also indirect water heaters that use heat from a home's space heating system to keep water warm.
Not every home will be a good candidate for one of these systems, but they all offer energy efficiency advantages over conventional tank water heaters.
Shopping for a New Water Heater