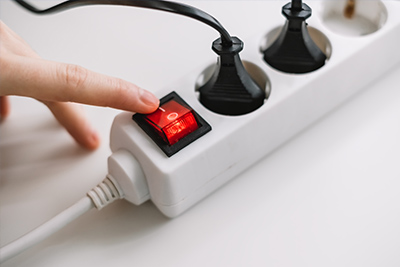 Surge protection is the primary line of defense against power surge damage, and it comes in many forms. The most common type of surge protection is a surge protection power strip, which is available in all shapes and sizes, often for less than $25. 
What Does a Surge Protector Do?
If you use one of these surge protectors to connect your sensitive electronics to your home electrical system, excessive current will be "arrested" by the surge protector – which means it gets bypassed directly to your home's ground wire, which allows the current to flow harmlessly into the ground. 
How Does a Surge Protector Work? 
You should think of your surge protector as sacrificing itself for your other electronics and appliances, because power surges eat away at a surge protector's life span. Every surge protector has a "joule rating," which indicates how many joules of electricity it can absorb before it becomes ineffective. Once a surge protector's capacity has been exhausted, it will still function as a power strip, but it won't provide any protection.
To make sure your devices are always protected, there are a few things to look out for when buying and using surge protectors. First, choose a surge protector with a joule rating of at least 1000 joules. These higher-capacity surge protectors will last longer and provide better protection against larger power surges. Second, choose a model with an indicator light that shows whether the surge protector is fully operational. Surge protectors don't tell you how many joules of protection they have left, but many models have this light to show whether they're still working. Finally, check the indicator light regularly, especially after lightning storms and power outages, and replace your surge protector as needed.
There are more heavy duty forms of surge protection, too. Whole home surge protection can be installed in your main electrical panel by a licensed electrician, and can protect some or all of the circuits in your home. This provides a strong baseline of surge protection, which can be enhanced by using surge protection power strips with your most sensitive or valuable electronics.
You may also be protected by a service entrance surge protector if you live in an apartment building or other multi-unit residence. These surge protectors are installed even further upstream, between a dwelling's main electrical panel and the electric utility's transformer, offering even greater protection capacity than whole home surge protection. Some newer homes may have this feature, but service entrance surge protection is uncommon among single-family homes.
Is There Another Way to Protect Against Power Surges?
One of the most vexing aspects of power surges is that they can occur and cause damage without our knowledge. Unless you're using surge protection in your home, there could be small surges coursing through your circuits right now, silently and invisibly harming your devices and appliances. But one of the greatest power surge threats – lightning – makes its presence known with flashes of light and booming thunderclaps.
When a lightning storm is passing close to your home, the one sure-fire way to protect your devices is to unplug them. It's not practical to do this with everything – your refrigerator needs to keep running, of course – but it's never a bad idea to unplug your smartphone, computers and entertainment electronics if you can see lightning near your house. If you're already using surge protection power strips with these electronics, you can do this easily by unplugging the power strip – which can help your surge protector last longer, too!