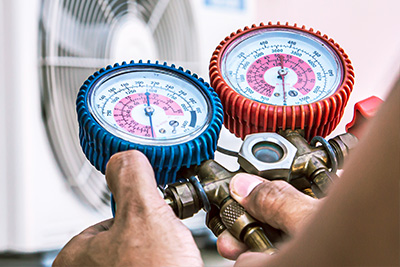 For Air Conditioner and Furnace Efficiency, Annual Maintenance Is Key
Central air conditioners, gas furnaces and electric furnaces should be maintained at least once a year by a licensed HVAC professional. This tune-up service should include a thorough cleaning, detailed inspection, coolant top-off, lubrication and other preventative maintenance steps. Having your system inspected by a trained eye once a year can help you catch problems early, before they escalate into more expensive issues.
Annual service will help maintain the efficiency of your systems, though it's normal for heating and cooling equipment to gradually lose efficiency over time. So when your systems are starting to get close to their usual replacement intervals – 10 to 15 years for a central air conditioner and 20 to 30 years for a furnace – you should talk to your HVAC technician about the condition of your equipment when you have maintenance performed. You can also track your utility bills over time to look for increases in energy costs, which could be due to aging systems.
Timely Replacement of Air Conditioners and Furnaces
After many years of service, the dwindling efficiency of furnaces and air conditioners can make a real impact on your utility bills. While it makes sense to replace parts as needed on systems that have a lot of life left in them, you should plan ahead to replace your entire system when it gets old enough. If you wait until your aging system starts costing you serious money in energy costs, ordinary maintenance won't help.
When shopping for a replacement system, be sure to look at efficiency ratings. Air conditioner efficiency is measured by the Seasonal Energy Efficiency Ratio, or SEER, and furnace efficiency is measured by the Average Fuel Utilization Efficiency, or AFUE. With both ratings, the higher the number, the more efficient the system. You can also look for the yellow and black EnergyGuide label on these appliances, which gives more detailed information about average energy costs.
Energy Saving Tips for Ducted Systems