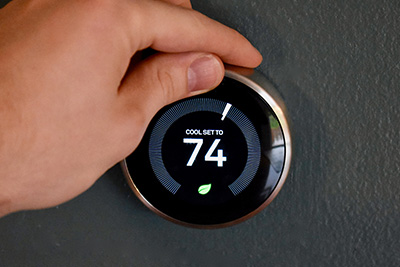 Recommended Thermostat Settings for Summer
Many people have strong opinions about what temperature to set the thermostat in summer, and the reality is that there's no magic number. ENERGY STAR, the federal program that helps consumers find energy-efficient appliances and electronics, learned this the hard way in 2019 when it added new thermostat recommendations to its website. It used an example of a home kept at 78 degrees Fahrenheit when occupants are home, 82 degrees when they're asleep and 85 degrees when the home is empty. As you might imagine, the social media reaction revealed that many folks found these temperatures uncomfortably high.
ENERGY STAR responded to the Internet buzz with a clarifying statement: "In order to save energy, the ENERGY STAR website recommends owners of programmable thermostats increase the air conditioning temperature setting by 7 degrees F when homes are unoccupied and by 4 degrees F when occupants are asleep."
In other words, comfort is personal, and the best AC temperature for summer will differ from one person to the next, but the key to saving energy with your thermostat is in setting the temperature a little higher when it won't affect your comfort level.
Find Your Best AC Temperature for Sleeping, Daytime and When You're Away
When experimenting with your best AC temperature for sleeping at night and activities during the day, the convenience of doing so depends on what kind of thermostat you have. There are three basic types of thermostats: manual, programmable and smart thermostats. 
With a manual thermostat, you need to be physically touching your thermostat to change the temperature. This means that, to save energy on cooling, you'll need to manually raise the temperature whenever you go to bed or leave the house, and the temperature may be higher than you'd prefer when you wake up or return home.
A programmable thermostat can automatically raise or lower the temperature on a customized schedule. Setting the schedule is usually done manually with controls on the thermostat. As long as you stick to your usual routine, you'll wake up in (or come home to) a comfortably cool house – but if you change your routine, your thermostat won't automatically adjust.
A smart thermostat is like a programmable thermostat that is connected to the Internet and can be controlled from anywhere using a smartphone or tablet. With a smart thermostat, your temperature settings can be as flexible and spontaneous as you are – you're always just a few taps away from saving energy and money.
If this is the first time you've tried to save money by adjusting your thermostat, start with ENERGY STAR's recommendations: Try increasing the temperature by seven degrees when your home is empty and by four degrees when you're asleep. If you find those changes easy to make, you could try increasing the temperature a little more, one degree at a time, until you find your ideal compromise between comfort and energy use. 
And if those changes feel like too much, you can try smaller temperature increases – every little bit helps. If your best AC temperature for sleeping is closer to your waking temperature, even an increase of one or two degrees can make a difference.