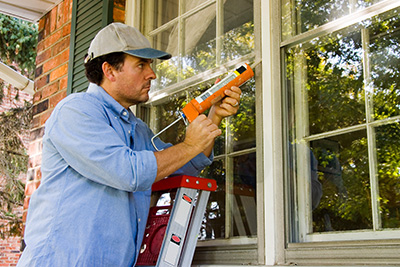 Air Sealing Your Home
If you have air leaks in your home, some of the air that you're paying to chill will slip right back outside. To prevent this, it's important to periodically inspect your home for drafts and perform air sealing repairs where needed.
The most effective method is to schedule a professional home energy audit. During this service, technicians will use airflow equipment and infrared imaging to pinpoint the areas where air is leaking out of (or into) your home. You can then repair these areas by replacing ineffective weather stripping on doors and windows, closing gaps with caulk or spray foam, or insulating weak spots like those around electrical outlets or recessed lighting. Our guide to weatherizing your home for summer offers advice for making your home more energy-efficient, especially when it comes to your cooling equipment.
If you don't do an energy audit, you can still search for air leaks on your own. Hardware stores sell draft detection devices that emit a smooth stream of odorless smoke. As you slowly move the detector through your home, disruptions of the stream of smoke can help you identify where the air leaks are coming from.
Door and window weather stripping is one of the most common sources of air leaks. Once a year, inspect these seals to ensure that they're still tight and springy, not cracked and brittle. If you're not sure, try closing a dollar bill in the door or window and gently pulling it out. If it pulls through easily, it's time for replacement. Stopping door drafts and window leaks is a simple fix with weather stripping repair kits, found at most hardware stores.
Blocking Out Heat
With your cooling equipment maintained, your thermostat set and your home sealed off from air leaks, the last step is to eliminate unwanted sources of heat.
Windows are one of the biggest culprits here, especially south-facing and west-facing windows in the late afternoon. The hot sunlight streaming into your house is fighting against your cooling system, forcing it to work harder and driving up your energy bill. Heavy drapes or blackout curtains are great for shutting out hot sunlight, but if you would like to let a little light in, cellular blinds help to bring in sunlight while offering a buffer from the heat.
If you're using old-fashioned incandescent light bulbs throughout your home, that's a double whammy on your electric bill. Incandescents consume far more electricity than modern LED bulbs, and they also put off much more heat. It's best to use LEDs wherever possible.
Using your oven and stove can also release heat into your home, so you should try to use them as little as possible on hot days, especially during the warmest hours. During peak temperatures, try to rely more on microwaves, small countertop cooking appliances and outdoor grills. If you do plan on using your oven and stove, consider doing it later in the evening, after the heat of the day has passed. Be sure to use your hood vent fan, if you have one, to help remove warm air.
Running the dishwasher, washing machine and dryer at night is another good practice. These appliances give off heat, which will be easier for your cooling equipment to remove at night. And if you pay a variable rate for electricity, you might also find that the cost of running your major appliances is lower at night.
Energy Conservation Pays Off in More Ways Than One
Your efforts to save energy in the summer can make a real difference in the size of your energy bills, but that's not all it can do. Conserving energy at home helps reduce greenhouse gas emissions, slowing the advance of climate change and improving air quality.
When energy demand peaks during the hottest days of the year, every little bit helps the environment, and can help you save energy.