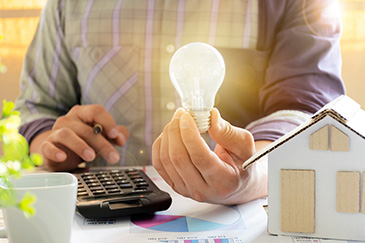 Most electric car owners recharge their vehicles at home when possible, resulting in higher utility bills. But in most parts of the country, this increase is more than offset by the savings that come from not buying gasoline. Just like the price of gas, the price of electricity varies by state. So if you live in an area that tends to have above average electricity prices, you may not save as much as a driver in a state with cheaper electricity.
A 2021 Wall St. Journal study compared the electricity and fuel costs of two comparable compact crossover SUVs, the 2021 Toyota RAV4 and the electric Ford Mustang Mach-E. The study examined costs in 15 U.S. cities based on 200 miles of driving per week, and found that at-home charging was cheaper than buying gasoline across the board. In Spokane, WA, where gasoline is expensive but electricity is relatively cheap, the study found an annual savings of $899 by charging an EV at home rather than buying gas. In New York City, where gas and electricity are both relatively expensive, the savings came to $428 – still cheaper, but with savings less than half the size it would be in Spokane.
NRG helps drivers save when charging their electric vehicles at home through the E-Charge Renewable Plan. With this plan, customers enjoy a reduced electricity rate during off-peak hours and fixed energy supply pricing for one year. This plan also makes use of 100 percent renewable energy sources, so you can be confident you're doing your part for the planet whether you're driving or charging.
Battery Charging Fees
Even if you do most of your recharging at home, you'll likely eventually need to make a pit stop at a public EV charging station. The costs for these can vary quite a bit – some are free, while others may charge fees. Some are also exclusive to drivers of electric cars from specific manufacturers. And when it's time to "fuel up," you may find that one station charges by the minute while another charges by the kilowatt-hour.
You can search for electric vehicle charging stations throughout the U.S. on the Department of Energy website. Be sure to pay attention to the details for any charging station you plan on visiting so that you know whether you're eligible, what type of charging equipment they have and how they charge for electricity.
Electric Car Maintenance Costs
Next to fuel costs, this is where most electric vehicles really shine. The 2021 Department of Energy study mentioned above found that the maintenance costs of electric vehicles are about 40 percent lower than those of comparable gas-powered vehicles. This is because electric vehicles do not require routine oil and fluid changes like traditional cars, and they have fewer moving parts overall.
Car Insurance
The relative cost of insuring an electric car compared to a gas-powered vehicle will depend on dozens of factors, including your state and personal driving history. But it's reasonable to expect insurance to be somewhat more expensive for electric vehicles due to their higher purchase price and overall value. When considering a switch to an electric car, you may want to request price estimates from your insurance carrier for the models you're thinking about buying.
So, Are Electric Cars Worth It?
If you're seriously thinking about buying an electric car, it's worth your time to investigate each of these major cost factors to see how they'll pan out for you, as well as other costs that may not be so obvious. The specific car model you're considering, your state, your home, your commute – all these things can make a difference in how much you'll pay to go electric. But the decision should involve more than just the cost.
Recharging an electric vehicle takes time, and if you're refueling periodically on long trips, this will require longer stops than a gas-powered vehicle would. Different vehicles have different maximum ranges, so it makes sense to choose a car that will get you through your typical daily commute on a single charge. And because charging at home is so important, drivers who live in multi-unit buildings may find electric vehicles to be a bad fit simply because there's no practical place to charge them.
But if you find that you have the time, the space and the budget to invest in an electric car, you can take pride in knowing that you're helping contribute to meaningful change in the health of our environment and planet. By consuming fewer fossil fuels and producing fewer greenhouse gas emissions, you'll help mitigate the effects of climate change wherever you drive.