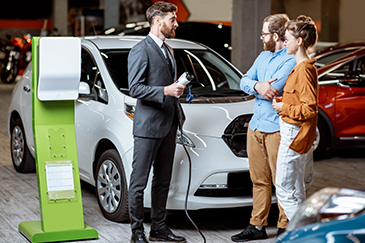 For most drivers, buying a car is naturally a high-involvement purchase. But if you're considering buying your first electric car, the decision is even more complex: can you get where you need to go on a single charge? Where will you charge your electric car? Will an electric car save you money?
Even though it takes a bit of extra work to weigh the pros and cons of buying an electric car, it's well worth the effort. If you find that an electric car is a good fit, it could bring you long-term savings, better driving performance and convenience – not to mention you'll be reducing your carbon footprint. 
Electric Car Pros and Cons
There are several purchase considerations that are specific to electric vehicles, which we'll delve into deeper in a moment. At a glance, these are the main pros and cons of buying an electric car.
Benefits of an Electric Car
Potential energy savings. With very few exceptions, it's cheaper to charge an electric vehicle's battery with electricity than it is to fill a standard car's tank with gasoline. These energy savings accumulate over time, making an electric vehicle a smart financial investment.
Environmental responsibility. The exhaust from standard vehicles is a major contributor to climate change and its harmful environmental effects. By switching to an electric vehicle, you'll be doing your part to mitigate these effects. So it makes sense that electric cars are better for the environment.
Financial incentives. Because electric vehicles are environmentally friendly, there are several opportunities for tax credits and other incentives that make it more affordable to buy one.
Savings on maintenance. Many of the things that make gas-powered vehicles expensive to maintain are related to their combustion engines. Electric vehicles lack several of these high-maintenance systems and moving parts, which means fewer trips to the mechanic.
Drawbacks of an Electric Car
Charger access Just like a gas-powered car can only go so far on a single tank of gas, an electric vehicle can only go so far on a single charge. For an electric car to be practical, you must have access to multiple charging stations in the areas where you drive.
Home charging station requirement Electric vehicles are the best fit for drivers who can charge them securely at home. This means having either a garage or a dedicated parking spot with secure access to electricity, which can be difficult for some drivers to arrange.
Charging time Even with the fastest electric car chargers, it takes longer to charge a battery than it does to fill a gas tank. If you plan to do a lot of driving, you'll need to plan ahead for the time you'll spend recharging on-the-go.
Hidden costs While you can save money by switching to an electric car, there are a handful of not-so-obvious costs, such as public charging fees and insurance costs.
Electric Vehicle Range
The single-charge range of electric vehicles has come a long way, and it's getting better all the time. Most of today's new electric cars can travel well over 100 miles on a single charge, with several ranging closer to 200 miles. Electric cars specifically designed for longer range can travel more than 300 miles at a time, and the extreme high end range is over 500 miles.
With ranges like these, most drivers can find multiple electric car options that will accommodate their daily commute and beyond. But to make sure, it's worth taking time to track the routes you typically take and measure your daily mileage over a few weeks of driving. If an EV would be your primary vehicle for longer road trips, make sure there are charging stations along the way.
Electric Vehicle Charging Stations
You can charge most electric vehicles using a standard 120-volt outlet like the ones inside your home, but this isn't practical for most drivers because you can only gain about four miles of range per hour. A 240-volt outlet, which is normally used for larger appliances, can get you closer to 25 miles of range per hour of charging.
If you don't have a 240-volt outlet in your garage or near your driveway, you can have this installed by a licensed electrician. This can cost anywhere from a few hundred dollars to around $3,000, depending on whether your garage wiring needs to be upgraded to accommodate a high-voltage outlet. It's a good idea to request an electrical inspection with a detailed estimate before deciding to buy an electric car, because this may be a significant part of your upfront costs.
But your charging station at home is not the only concern – you should also figure out where you can charge up when you're on-the-go. The Department of Energy maintains an online map showing electric vehicle charging locations throughout the U.S. When researching charging stations near your home and work, be sure to check the details on each station; some are free, while others charge fees. Some charging stations, like those owned by Tesla, may only be available to owners of specific car brands.