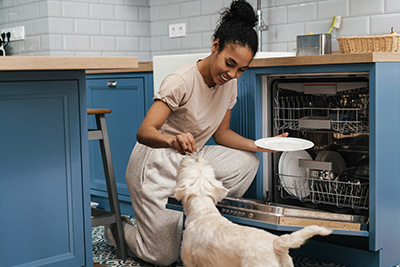 As with most appliances, the electricity needs of dishwashers vary quite a bit based on their size, power and features. Compact, portable dishwashers may require only a few hundred watts, while the most powerful models can draw 2,500 watts or more. But dishwasher wattage is only one piece of the energy puzzle.
Dishwashers draw hot water from your water heater, and getting this second appliance involved can more than double the overall energy consumption of running a load of dishes. If you have an inefficient water heater, even an ENERGY STAR-certified dishwasher can cost you a lot of money on your energy bills.
Including a water heater in the equation makes the actual electricity use of a dishwasher harder to calculate, but it gets even more complicated than that. Some models allow you to set the length of the cycle, with longer cycles consuming more electricity. Dishwashers often have settings like "sanitize," which uses extra hot water, and "delicate," which uses lower water temperature. There may also be multiple drying settings, including air dry, fan dry and heat dry. 
So, does a dishwasher use a lot of electricity? It depends on the dishwasher, it depends on the hot water heater, and it depends on the settings. Like we said – it's complicated.
Check the EnergyGuide Label
While it can be tricky to figure out exactly how much electricity goes into washing your dishes, there is a cheat sheet that makes it easy to compare the efficiency of dishwashers. The federally required EnergyGuide label is available for all new dishwashers, and it can give you a basic idea of each model's operating cost.
The EnergyGuide label is black and yellow and will state the estimated annual electricity use and estimated annual operating costs for use with both an electric water heater and natural gas water heater. This data is based on four loads of dishes per week and the national average rates for electricity and natural gas, so you can estimate whether your energy costs will be different based on your own dishwasher use and local energy rates.
Keep an eye out for the EnergyGuide label when shopping for a new dishwasher. If you're shopping online and don't see the EnergyGuide label at the point of purchase, try searching for the model number on the manufacturer's website. 
Another thing to look for when shopping for dishwashers is the ENERGY STAR logo. You'll see this logo on dishwashers that meet the highest energy efficiency standards – less than 270 kilowatt-hours per year for standard dishwashers, and less than 3.5 gallons of water per cycle. 
Energy-Efficient Dishwasher Tips