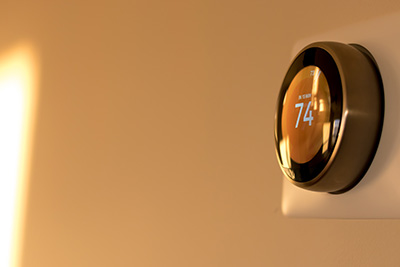 Your doors and windows are some of the most vulnerable spots in your home envelope, and over time, their weather seals can fail. Weather strips are the rubbery gaskets that seal the edges of doors and windows around the frames, and when they become flattened or cracked, they let cold winter air seep in.
Take time to carefully inspect the weather stripping on every window and door. In addition to looking for cracks, try the dollar bill test: place a dollar bill against the weather stripping in a window or door and close it. If you can pull the bill out easily, the stripping is due for replacement.
Self-adhesive weather stripping is easy to install and available at most hardware stores. You may also want to grab a putty or utility knife to help remove the old weather stripping, and a bottle of adhesive remover to clean your door and window frames before installing the new weather stripping.
Draft Detecting and Weather Proofing
While doors and windows are common sources of drafts, they're not the only ones. If you have cracks in exterior walls, gaps around pipes or any other small openings to the outdoors, cold air is sure to come streaming in.
A thorough visual inspection of the inside of your home should help you spot these openings, but to be sure, consider investing in a draft detector. These small, inexpensive devices emit a smooth stream of odorless smoke, and as you slowly carry one through your home, drafts will interrupt the smoke stream. Just make sure you turn off your fans and HVAC system first. Once you track down the source of a draft, you can weather proof the openings using patching putty for fine cracks and spray foam insulation for larger gaps.
Plan for Upgrades
One of the most expensive weatherization tasks can also be one of the most effective: replacing old windows and doors. If your home has windows or doors that are in a state of disrepair or are outdated – especially if you have uninsulated single-pane windows – it may be time to consider an upgrade.
This is a high-involvement purchase that will require professional installation for most homeowners, so take your time as you read customer reviews and compare prices. High-quality weatherproof windows can cost between $300 and $700 each including installation, but over time, these upgrades can pay for themselves in reduced heating and cooling costs.
Tune Up Your Furnace
To prevent unexpected breakdowns, maximize energy efficiency and extend the life of your HVAC system, you should have your furnace tuned up by an HVAC professional every year. This service typically includes a thorough inspection and cleaning, fuel input calibration and lubrication of moving parts. It's also a good opportunity to catch potential problems while they're still small and inexpensive to fix. Check out our tips for air conditioner and furnace efficiency. 
Upgrade Your Thermostat
Much has changed in thermostat technology in recent years. The most significant advancement is the introduction of smart thermostats, which can be controlled and programmed with a smartphone app. This allows you to easily create intricate heating and cooling schedules that save you money while your home is unoccupied, and if you ever change your plans, you can set your thermostat remotely with a few quick taps. If your primary objective in weatherizing your home for winter is to save money, a smart thermostat is a smart investment.