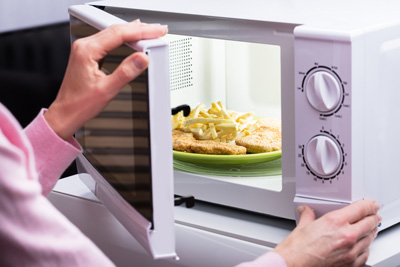 Your microwave may not be your go-to appliance for cooking gourmet meals, but in many households, it's essential for grab-and-go grub, reheating leftovers and favorite snacks like popcorn. Not only is it fast, it's energy efficient – most microwaves use a fraction of the energy an oven uses, and they often use less than other countertop kitchen appliances like air fryers and toaster ovens.
What is the Wattage of a Microwave? 
Microwave wattage varies by model, but the average wattage of a microwave falls somewhere between 600 and 1,000 watts, according to EnergySage. There are higher wattage microwaves available, but these are more common in restaurants and commercial kitchens. To check the wattage of your microwave, you can refer to the owner's manual or look for the information on a sticker or metal plate on the microwave itself. 
The wattage tells you how much electricity the microwave will consume at full power, but most microwaves have multiple lower power settings that will use less. 
How Much Does It Cost to Use a Microwave?
Microwave cooking is extremely inexpensive for two reasons: microwaves are relatively low-wattage compared to other cooking appliances, and they're also faster, which means you use them less.
Let's say you have a 1,000 watt microwave, which is on the high end of the typical range. You can run that appliance at full power for an entire hour for the cost of one kilowatt-hour (kWh) of electricity – usually around 13 cents. And we typically only use our microwaves for a minute or two at a time, which means you may be able to enjoy several weeks worth of microwaved meals for every dollar's worth of electricity.
At 15 minutes of cooking per day with a 1,000 watt microwave, you'd consume about 7.5 kWh per month and 91.25 kWh per year. At 13 cents per kilowatt hour, that comes out to just 98 cents per month and $11.86 per year.
Compare that to an electric oven, which uses 2,000 to 5,000 watts of electricity on average, according to EnergySage. Assuming an oven on the high end of the typical wattage range at 5,000 watts, 15 minutes of daily cooking would cost you $4.87 per month and $59.31 per year. But electric ovens also cook food slower, and 15 minutes is barely enough time to cover preheating – so when it comes to energy efficiency, microwave cooking has a huge advantage.
Microwave Energy Efficiency Tips