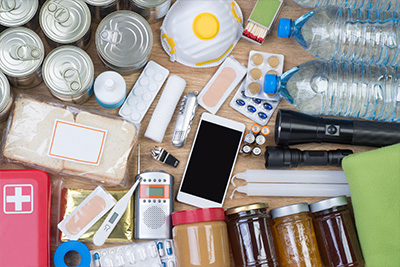 Power outages are always inconvenient, and they can even be dangerous. But with a little knowledge and preparation, you can protect yourself, your home and your belongings for power outages of any duration. Read on to learn what to do when power goes out.
Prepare for a Power Outage
Sometimes you can see a potential power outage coming hours or even days away, such as when severe weather is forecasted. Other times, it may come as a surprise due to an event like a vehicle toppling a utility pole. Some may even be announced in advance, such as when an energy utility announces a temporary rolling power outage to protect the grid during periods of excessive energy demand. 
The key to getting through a power outage safely and comfortably is to be prepared for any type of outage, even the ones you don't see coming.
Prepare an Emergency Kit
Every home should have an emergency kit, and every member of the household should know where it's stored. The most important items to include are:
Water; at least three gallons per household member
Non-perishable food; at least three days' worth for the entire household
Flashlights
Battery-powered radio
Batteries
First aid kit
Prescription medications
You may also want to include copies of important documents, such as birth certificates and insurance policies. Stored food and water should be consumed and replaced periodically to keep the kit fresh.
Prepare Emergency Lighting for Power Outage Safety
A sudden power outage can leave you fumbling through the dark, and this can be hazardous, especially for people with mobility issues. Keeping small flashlights stored in easy-to-reach places throughout your home ensures that you're never far from an emergency light source. Make sure everyone in the home knows where these are located.
Prepare Backup Power
You can invest in all sorts of backup power solutions, from whole home generators that start automatically to wallet-sized solar panels for charging your phone. Take time to assess your budget and backup power needs so you can make an informed purchase before an emergency occurs. NRG's backup power partners have several solutions to get you started.
If you choose a fuel powered generator, be sure to familiarize yourself with all safety guidelines and make a plan for where you will operate the unit. Gas, diesel and propane generators must be operated at least 20 feet from any occupied structure to minimize the risk of carbon monoxide poisoning. You should also ensure your generator is connected safely; extension cords must be rated for generator use and long enough to account for the distance between the generator and the house. If you'd prefer to connect a generator directly to your home's electrical panel, you should have a device called a transfer switch installed by a licensed electrician.
Generators range in price from a few hundred dollars to several thousand, but you don't need to spend big to have a little backup power. Small electronics like solar chargers and power banks can be purchased for under $50, giving you a way to power phones, radios and other small electronics in an emergency. Our sister company, Goal Zero, offers a range of solutions to power your electronics, lighting and more.
Sign Up for Alerts
Most utilities allow customers to opt-in for text alerts about outages and other events affecting service. If you're not already registered for these alerts, look on the websites of your utilities or check your most recent energy bills for instructions. In the event of a power outage, your energy utility may be able to text you with an estimated time of service restoration.
Take Advantage of Advance Warning
The tips outlined above will help you be prepared for those power outages you don't see coming, but if you have the benefit of prior warning, you can do even more. If a hurricane, tropical storm or severe weather outbreak is forecasted for your area, consider taking a few additional steps:
Clean your fridge and freezer of unwanted and expired foods.
Put refrigerated and frozen meat and produce inside plastic bags, then put them back in place. If the power is out so long that they become unsafe to eat, this makes it cleaner and easier to dispose of spoiled food.
Fully charge your mobile devices.
Fill your car's gas tank.
Unplug sensitive electronics around your home, especially if they're not connected to surge protectors.
During a Power Outage