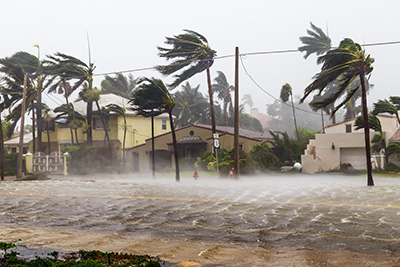 Stay or Go?
One of the most important decisions to make when a hurricane is approaching is whether to evacuate or ride out the storm at home. Riding out a storm can be dangerous, and you may be left without electricity for several days. But evacuating can also be difficult, especially if you don't own a reliable vehicle.
Listen to announcements from local authorities about storm preparation, especially if mandatory evacuations are discussed. Authorities may order mandatory evacuations for areas they deem especially at risk, so if you find yourself in one of these areas, you should make plans to evacuate as soon as possible. If you need assistance, contact your local authorities to explain your situation.
If you plan to evacuate, fill your car's gas tank and prepare your vehicle as early as possible. You may encounter long lines at filling stations. If you plan to stay, make sure you know where your nearest emergency shelters are located in the event your home is damaged. If you'll be using a fuel-burning generator, you should also stock up on a supply of fuel that will last at least a few days.
Batten Down the Hatches
Secure anything outside your home that could get blown away, including patio furniture, potted plants and lawn care equipment. If you have storm shutters, install or close them. In addition to the risk of losing unsecured items, they could become airborne and damage your home or those of your neighbors.
Prepare Your Fridge and Freezer
There's always a risk of losing your perishable food during a hurricane due to prolonged power outages. But you can make cleanup easy with a little prep work. Empty and clean your refrigerator and freezer to help prevent odors from developing if you lose power. Then, place your food in plastic bags before putting it back inside. If your food becomes unsafe, all you have to do is grab the bags and toss them out. This is an especially helpful step if you choose to evacuate, because you never know how long it will be before you can return, and cleaning up rancid groceries is a stomach-turning task.
If your power goes out, refrigerated foods will stay safe for four hours, as long as you don't open the refrigerator door. Frozen foods will stay safe for 48 hours in a full freezer and 24 hours in a half-full freezer.
Unplug Your Appliances and Electronics
Because the risk of a power outage is so high, it's a good idea to completely disconnect unnecessary appliances and electronics before high winds arrive. Power outages from downed lines or damaged transformers can create surges of voltage that may damage your property, especially sensitive electronics. 
Hurricane Preparedness: During the Storm
Stay Inside
If you're riding out the storm at home, stay indoors and away from windows until the storm has completely passed. Make sure you know where your emergency kit is located, and keep a flashlight, mobile phone and battery-operated radio near you. Use the radio and your smartphone to monitor conditions and listen for official announcements.
Stay Alert
Structural damage or rising floodwaters could force you from your home in a worst-case scenario. If this happens, you may need to seek cover in the nearest available safe shelter, likely a neighbor's house. Call 911 for instructions if you're able to temporarily continue sheltering in place. If you move to a vehicle, do not attempt to drive through standing water – it can be difficult to judge how deep it is.