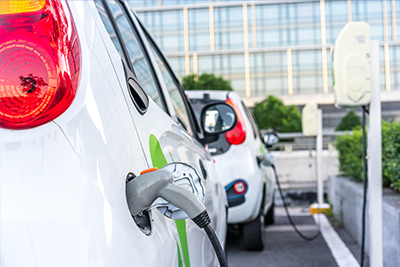 In most cases, EV batteries require no maintenance and are designed to last for the life of the vehicle. Gradual loss of overall battery capacity is normal, however, and could significantly reduce the maximum mileage range of an EV after many years of service.
To help minimize wear and tear on the battery, there are a few things EV drivers can do: 
Avoid fully depleting or fully charging the battery. In general, drivers should try to keep the battery level between 10 and 90 percent to help extend its life. Many models have settings that automatically prevent charging the battery to full capacity. 
Avoid charging the battery when the battery itself is under extreme temperatures. Charging a battery when it is very cold or hot can cause damage. To avoid this, it is often helpful to charge the battery immediately after the car has been driven for some distance. In cold temperatures, running the battery will warm it up, and in hot temperatures, driving the car will circulate coolant through the battery, cooling it down. 
Avoid using fast chargers, also called level 3 chargers. While these can be convenient for their ability to fully charge an EV battery quickly, using them taxes the battery. Try to use these only when fast charging is absolutely necessary. 
EV Warranties 
With EVs, looking into the warranty is more important than ever. Many drivers look for a solid manufacturer's warranty when shopping for a new car because it allows them to drive with peace of mind. If a component fails prematurely and within the warranty period, there is usually little or no cost for repairs or replacement. And because EVs are simpler than gas-powered vehicles and tend to have fewer repair issues, EV warranties are usually much more generous. When it comes to warranties on EV batteries, for example, it's not uncommon to see warranties offered for 10 years or 150,000 miles, whichever comes first. 
Because these warranties are longer in duration and cover more expensive parts, it's especially important to comply with the terms of an EV warranty. This often means taking the EV to a dealership for maintenance and inspections on a prescribed schedule. If you fail to do this within the required timeframe, part or all of the manufacturer's warranty may be voided. So if you make the switch to an EV, be sure to read the warranty terms carefully and comply with all manufacturer requirements.
Not sure if an electric car is right for you? Take the time to investigate the major cost factors to see how they'll pan out for you, as well as other costs that may not be so obvious. But the decision should involve more than just cost. Check out our article about electric car pros and cons.