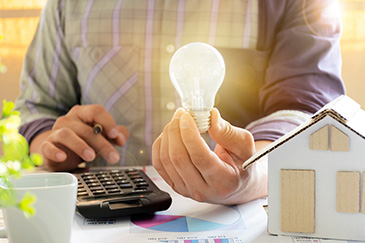 Installing a residential rooftop solar panel system is one of the most impactful ways you can save money while helping the environment. But in order to reap those benefits, you'll need to make an initial investment – and the size of that investment can vary widely based on a number of factors.
All solar installations are customized based on the size, design and energy needs of the home, so there is no one-size-fits-all price. The cost of solar equipment varies by manufacturer and model, and competition among solar installers adds even more cost variables depending on where you live. Then there are the tax rebates and incentives, which can dramatically reduce the overall price tag.
So where do you begin? Let's review the basic factors that affect the cost of solar installation, and when you're ready, get personalized savings and instant cost estimates by trying our solar calculator. 
How Much Do Solar Panels Cost?
The first cost to consider is the cost of solar equipment. You'll need solar panels, inverters to convert solar energy into electricity, and mounting hardware to secure the panels to your roof. Your solar installer will order all of this equipment for you, but you may have some options that will affect the overall price.
One option is the type of solar panels you ultimately choose. Most solar panels are classified as monocrystalline, polycrystalline or thin-film. Monocrystalline solar panels are the most energy efficient but also the most expensive. Polycrystalline solar panels are considerably cheaper, but will generate less electricity and may not last as long. Thin-film solar panels come in a few different types, some of which can be as expensive as monocrystalline panels, but they're rare in residential installations and are primarily used in commercial spaces.
Another option is the number of solar panels you choose to install. Your solar installer can calculate the total number of solar panels that your roof can accommodate, and while it's often advisable to go with the greatest quantity possible, you can always opt for a smaller system at a lower cost.
Solar installers will typically bundle equipment costs together to put a price on each watt of electricity that a system can produce, and this price per watt will fluctuate based on the number and type of panels that you choose. For example, you might consider a monocrystalline solar panel system that costs $1.50 per watt for the equipment alone. If you substitute polycrystalline panels instead, that price may drop to around $1.00 per watt. If you add more panels, the cost per watt could go down further, but if you subtract panels, the cost per watt may rise. This method of pricing makes it easier to understand the relationship between energy potential and cost, allowing you to fine-tune your system for the best overall value.
How Much Does It Cost to Install Solar Panels?
Installation costs vary quite a bit, and are often greater than the cost of the equipment. Some solar installers may quote their installation rates separately from the equipment cost, but to help their customers budget, it's common for installers to bundle this expense into the price per watt.
Including installation, most residential solar installations cost somewhere between $2.00 and $3.00 per watt, according to the Center for Sustainable Energy. This means that, before tax incentives and other price breaks, the total cost for a typical 5,000-watt system ranges from about $10,000 to $15,000.
There are several factors that can make solar installation cost more. Larger systems cost more to install than smaller ones, and complex roof designs can also add to the cost. If you live in a sparsely populated area or one where residential solar is uncommon, the lack of competition among solar installers may also make installation more expensive. Even the time of year can affect this cost, as installers may offer price reductions during the slower winter season.
If financing solar panels for your home is important to you, ask your bank or credit union if they offer loans designed for this specific purpose. If they don't, find out if you qualify for a home improvement loan, home equity loan or home equity line of credit that you can use to purchase solar installation. You can also inquire about terms for personal loans.
Are There Other Costs to Solar Installation?