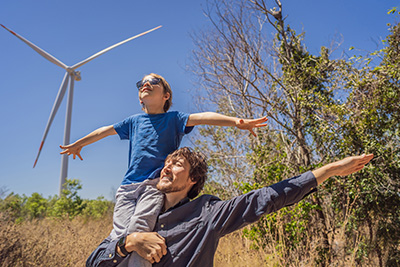 It's easy to think of renewable energy as cutting edge; we often associate it with solar panels and wind farms, and consider it to be the future of energy production. But this is only partially true – before mankind learned how to use nonrenewable energy sources like coal, oil and natural gas, we relied on sunshine and wind for the energy we needed to travel, prepare food, stay warm and much more.
Wind and solar energy have been abundant for thousands of years, and they'll be around for thousands more. With our rapidly advancing technology, we're doing more with those energy sources than ever before, as well as adding other renewables to the energy mix.
What Is Renewable Energy?
Renewable energy refers to energy sources that replenish themselves naturally and continuously. Renewable energy sources include solar, wind, geothermal and biomass – energy that comes from the processing of organic material. Other energy sources like coal, oil and gas are considered nonrenewable because of the extremely long processes that cause them to form. We're consuming these energy sources much faster than they can be replenished. And there's another big difference between them and most of the renewable energy sources we use – renewables are cleaner.
Coal, oil and gas produce emissions that are harmful to the environment, which is why they're often called dirty energy sources. Most renewables produce no harmful emissions, which is why we call them clean energy sources.
Energy Resources That Are Renewable
Most renewable energy production falls into one of five categories: