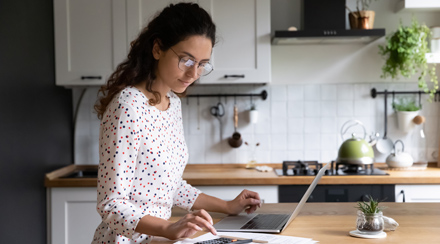 If you're taking an active interest in your household energy efficiency, you may find yourself thinking more about the wattages of the appliances you own or purchase, such as refrigerators, dishwashers, even TVs. Knowing the wattages of your appliances is a helpful way to quantify your overall energy consumption, giving you a better idea of where all that energy is going when you get your bill each month. 
There are a few simple calculations you'll need to learn to get started, but once you know them, you can estimate the cost of just about every appliance or device in your home.
How Many Watts is a Kilowatt?
The basic unit we use to measure electricity is the watt, named after Scottish inventor James Watt, whose steam engine helped fuel the Industrial Revolution. In most cases, when you look up an appliance's wattage in an owner's manual or on an appliance label, it will be expressed in watts with a number followed by a capital "W."
Your electrical utility may be more likely to communicate in terms of kilowatts (kW) than watts. A kilowatt is equal to 1,000 watts, and is commonly used in calculating monthly electric bills. The wattage formula for converting between these units depends on whether you're calculating watts (W) to kilowatts (kW) or vice versa:
Watts to kilowatts:
W / 1,000 = kW
Kilowatts to watts:
kW x 1,000 = W
How kWh is Calculated 
On your electric bill, you'll see that you're billed based on how many kilowatt-hours (kWh) you use. What is a kilowatt-hour? A kilowatt-hour is equal to the total amount of electricity that is consumed when one kilowatt (1,000 watts) of electricity is consumed for one hour. 
Calculating kWh can help you figure out how much it will cost to run an appliance, as long as you know the appliance's wattage and how long the appliance will be running. First, calculate the kilowatt-hours by multiplying the wattage by the number of hours, and dividing the product by 1,000:
(W x hours) / 1,000 = kWh
Once you calculate the kilowatt-hours, you can check your latest electric bill to find your kilowatt-hour rate. Then multiply the answer to your previous calculation by the kilowatt-hour rate to estimate the cost of running the appliance.
Here's an example – let's say you have an electric clothes dryer that runs on 2,500 watts, and a full cycle takes an hour and a half to complete. Let's also assume the price of electricity is 13 cents per kWh.
First, calculate the kWh per cycle:
(2,500 W x 1.5 hours) / 1,000 = 3.75 kWh
Next, calculate your electricity costs:
3.75 kWh x .13 = 0.4875
In this case, it costs about 49 cents to run this dryer for a full cycle.
Calculating the Wattage of an Appliance ​​