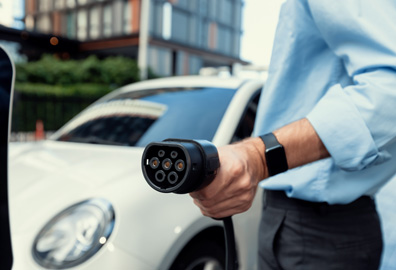 If you've never plugged in an EV before, it can take a few minutes to get your bearings. First, you'll need to find the vehicle's charging port, which is located in different places on different models. It may be on either side of the vehicle, in the front or back, or even at the very front of the car. It's usually underneath a hinged hatch that looks similar to the fuel hatch on a gas-powered car.
Next, you'll need charging cables. These are typically included with new EVs and can be purchased as aftermarket accessories. They often consist of one main cable with multiple attachments for different types of charging ports.
To charge an electric car at home, you can simply plug in your EV with the charging cables like you would any corded appliance. First, connect the charging cable to your EV charge port with the J1772 connector. For level one charging, use a 120-volt adapter to connect the other end of the charging cable to any standard GFCI outlet. For level two charging, use a 240-volt adapter to connect the other end of the charging cable to an EV charging station.
If you need level two charging at a public charging station, look for step-by-step instructions posted at the charging bay. DC fast charging at a public charging station is a little more complicated because there are multiple connection types, and fast charging stations usually don't accommodate them all. CSS connectors are the most common for fast charging, but some EVs use CHAdeMO connectors, and Tesla has its own proprietary connection design.
Paying for EV Charging
When you're charging your EV at home, paying for it is simple; it just goes onto your monthly electric bill like all of your other appliances. But when you're charging up at a public station, it gets a little more complex – though not necessarily complicated.
Most public charging stations allow (and some require) you to pay for charging using a smartphone app. These apps are free and created by EV charging networks to facilitate payments. You'll need to create a free account and either load it with prepayment credits or link it to a credit card.
If you carry a smartphone and credit card, you can do all this in just a few minutes at the charging station. If not, you can plan ahead and set up free accounts with charging networks from your home computer. Some of these networks will send you free cards or keychain tabs that you can scan at charging stations, allowing you to charge and pay without using a smartphone. 
Your EV itself may also be equipped to communicate with charging networks, allowing you to use in-car controls to authorize payments. The availability of this feature varies by manufacturer, so it's always a good idea to explore your owner's manual or EV manufacturer's website for more specific tips about public charging.
Where Can I Charge My Electric Car?