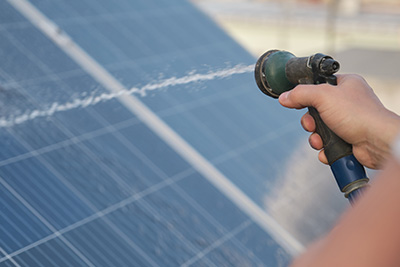 The easiest way to clean dirt, dust and other particulates from solar panels is to spray them with a garden hose. If that doesn't get the job done, you can use a long-handled window cleaning tool with sponge and squeegee attachments to clean them more thoroughly. This may involve standing on a ladder, so be sure to use a spotter and take all proper safety precautions when doing so. If your solar panels are installed in a high or precarious position, you should hire a professional to perform this maintenance for you.
When cleaning your solar panels, it is important to avoid using any chemical cleaners or other products. You should only use ordinary tap water.
To clear leaves, tree limbs and other debris, use a soft-bristled broom, leaf blower or long-handled grabbing tool. Again, if this requires use of a ladder, work with a partner and put safety first. 
To clear snow and ice, it's best to use a soft-bristled broom or long-handled squeegee. If you can remove a layer of snow, sunlight may be able to melt away what remains in a few hours. If you're able to do so safely, you can pour or spray lukewarm water over your solar panels to melt snow and ice more quickly. But it's important not to use hot water, as this could crack the tempered glass during cold weather conditions.
Monitoring Your Solar Panel Output
While you can see some obstructions with the naked eye, you might not notice a buildup of dust or pollen on your solar panels. But even a thin layer of particles can take a bite out of your solar energy output, so it's a good idea to monitor this output over time. Many solar energy systems are compatible with smartphone apps that make it easy to track this information. If you're not sure how to track yours, ask your solar installer for help.
Once you know how much electricity your solar panels produce under optimal conditions, you can take action if you notice a sudden decrease in energy output. You can also monitor any gradual decline in output to help you decide if and when to replace your solar panels, though most are designed to last 25 years or longer.