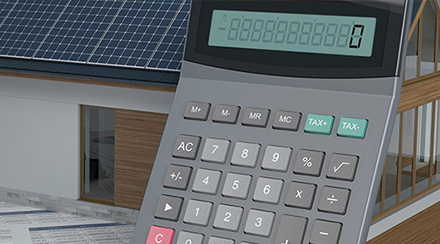 3. Get Cost Estimates and Check for Tax Breaks
If you're still considering solar after reviewing your electricity bills and evaluating your rooftop sunlight exposure, the next step is to estimate the total cost of solar panel installation. The cost can vary quite a bit depending on the number and type of solar panels you want to install, but most homeowners will find that installation of a 6 kW solar array will cost between $13,000 and $20,000.
The best way to estimate the total cost is to research solar installers near you and request at least two price estimates. But there are other factors to consider, specifically tax credits and other financial incentives that may help offset the cost of solar installation. There is a federal solar tax credit that allows homeowners to deduct a portion of their solar installation costs from their federal taxes, the rates and availability of which are determined by Congress. But there may also be additional tax credits or incentives offered at the state, county or local level. Solar installers are typically aware of what incentives are available and can help you identify opportunities to reduce your overall cost.
It's common for solar installers to perform brief home inspections prior to offering written cost estimates. This will include an inspection of the roof and main electrical panel, which may require repair or replacement. Electrical panels must be replaced if they're in disrepair or upgraded if they're insufficient to handle the power demands of a solar array, and these services can cost anywhere from a few hundred dollars to about $2,500. 
The roof may also need to be replaced if it is in poor condition or if the existing roofing materials cannot accommodate solar panels. This can significantly increase the cost of the total project – roof replacement costs vary by roof size and type, but the average roof replacement costs around $8,000.
4. Factor In Financing
Because solar installation usually costs several thousand dollars, most homeowners choose to finance their installations. Solar installers frequently offer financing assistance, usually through third-party lenders. But if you have an existing relationship with a bank, credit union or other lending institution, you may find that they have competitive terms on solar loans, home improvement loans, personal loans or home equity lines of credit. Learn more about financing options in our article about how to finance solar panels.
Considering all these factors together – your monthly electricity expenses, your sunshine potential, the cost of installation and your financing options – should give you a good sense of whether you can afford solar installation and how long it will take for your investment to pay for itself.
Additional Benefits of Solar
These calculations lead many homeowners to decide that going solar is a smart investment. But the benefits of solar power go far beyond monthly energy savings. A 2019 study by Zillow found that homes with solar panels sold for 4.1 percent more on average than comparable homes that lacked them.
Solar power can also keep your home running in the event of a power outage, especially when combined with a home battery that stores the free energy you generate. And of course, adding solar is great for the environment, reducing greenhouse gas emissions and countering the effects of climate change.