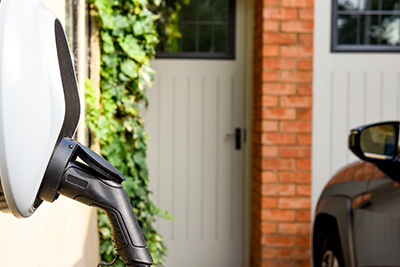 Home Charging 
This is something drivers of gas-powered cars don't have to worry about at all. But most EV drivers will find that installing a level 2 charging station at home is the only practical way to refuel.
EVs can be charged with a standard 120-volt outlet, which is called level 1 charging. But it can take 50 hours or more to fully recharge a depleted EV battery this way, which is too slow for most drivers. A level 2 charger requires a 240-volt outlet, which should be installed by a licensed electrician. The cost of installation can vary from a few hundred dollars to around $3,000 or more, depending on the condition and complexity of the existing home wiring. 
Maintenance
Routine maintenance of an EV is much simpler than that of a gas-powered car. EVs don't require motor oil, engine air filters, fuel filters and pumps, drive belts, spark plugs and other equipment that tends to need replacement over the lifetime of a vehicle. Most EV drivers only need to replace their wiper blades, windshield washer fluid, cabin air filters and tires as needed. Beyond that, most scheduled maintenance consists of periodic checks by professional mechanics to verify the performance of the battery, coolant system, electric motor and drivetrain.
This difference usually makes EVs less expensive and time-consuming to maintain. But there's one maintenance consideration that is very important for EV drivers to remember: you may need to take your EV to a dealership for scheduled maintenance inspections to maintain the warranty. EV warranties often cover more miles and/or years of operation than warranties on gas-powered cars, so it's especially important to keep them in good standing.
Range
With a gas-powered car, your range is as far as your wallet will take you – simply fuel up and keep going. But with an EV, it makes sense to think of the range in terms of how far you can go on a single charge. And that varies significantly by model.
If you browse the list of available EVs ranked by range at the Electric Vehicle Database, you'll find vehicles with ranges around 100 miles, 700 miles and everything in between. Mileage range is one of the most important factors when shopping for a new EV, as you'll want to choose a model that will get you through a typical day of driving on a single charge. 
Keep in mind that EV batteries gradually lose capacity over time, which means that your maximum range is likely to slowly decrease over the life of the car. Other factors can limit the range further, including cold outdoor temperatures and how much energy you're using with an EV's non-driving systems, like heat and air conditioning.