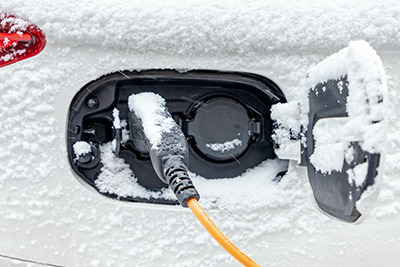 Electric car batteries need to be within a certain temperature range to work properly, and in extremely cold temperatures, they'll need to use lots of their own energy to stay warm. And that's just the battery – you'll want to be warm, too, which means you'll be running the heat and seat warmers, draining the battery even more.
Any energy that goes toward heating is energy that isn't going toward driving, so EV drivers often notice that their mileage range is lower when it's cold outside. According to a study by AAA, some models may experience up to a 40 percent range reduction in cold temperatures when the heat is on. Battery charging is also slower in extreme temperatures. Driving and charging the battery in cold temperatures does not harm an EV, but because of these range limitations, it's especially important for drivers to plan their routes and charging schedules during winter.
Do Electric Cars Lose Charge While Parked?
Yes – unless an electric car is plugged in and charging, it will lose some amount of charge no matter what it's doing, even if it's parked. This type of battery drain is minimal, however; in most cases, you can leave an EV parked for weeks without having to worry about returning to a dead battery.
There are several things to consider, though, if you plan on leaving your EV idle for a long period of time. It can be harmful to the battery if it spends too much time with a very full or very low battery, so you should ideally store your EV with a battery level somewhere between 20 and 90 percent. Some EV models also have battery management settings that can be used to optimize battery care when they'll be parked for long periods. You should check your EV model's manual for specific instructions on how to safely store your electric car for longer periods. 
Do Hybrid Cars Use Gas?
Yes – hybrid electric vehicles run on the same gasoline as traditional internal combustion engine cars. What hybrid cars don't use is electricity from car chargers and outlets; while hybrid vehicles have electric motors, the electricity comes from the internal combustion engine and other systems, such as regenerative braking systems. Because hybrid cars use their electric motors whenever possible, many models deliver more than 50 miles of range per gallon.
Not sure if an electric car is right for you? Take the time to investigate the major cost factors to see how they'll pan out for you, as well as other electric car costs that may not be so obvious. But the decision should involve more than just cost. Check out our article about electric car pros and cons.