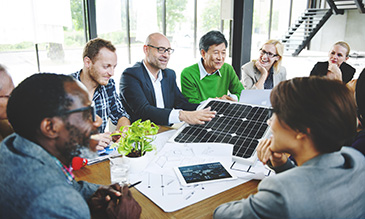 Once the inverter has converted the electricity to AC, it can flow to one of three places: the home's electrical panel, the main electrical grid or a home battery.
When the electricity flows into the home's electrical panel, it's used to power the home's appliances and systems for free. When it flows into the main electrical grid, it becomes part of the general electricity supply we all share, and it's calculated as a credit – essentially, the home is "selling" electricity back to the electrical utility. And when the electricity flows into a home battery, it's stored so that it can be used to power the home during a power outage or during periods of peak energy demand.
A home battery is not required as part of a residential solar installation, but when they're installed, the electricity generated by the solar panels usually flows to the battery first until the battery is full. After that, the electricity typically flows into the home's electrical panel and is consumed on-site. If there's still excess electricity that is not being consumed by appliances and home systems, that electricity then flows into the main electrical grid.
In a home with solar panels but no home battery, the solar-generated electricity will typically flow into the electrical panel first, with any excess flowing into the grid. During a power outage, the solar panels will still generate electricity that can be used in the home, but this is dependent on the amount of available sunshine. In order to have a reliable supply of emergency energy, it's helpful to have a home battery that can provide a steady flow of electricity day or night.
There are other common applications of PV solar panel technology, such as solar generators. With these products, the solar panels work the same as in a rooftop solar installation, but the inverter and battery are contained in a single portable generator that can be carried around to produce clean electricity on-the-go.
PV technology is undergoing constant research and development, with engineers working to make solar cells more efficient, compact and durable. So while we primarily associate solar power with the rigid solar panels we see installed on rooftops, we can expect to see more solar cells on vehicles, consumer electronics and even flexible fabrics in the near future.