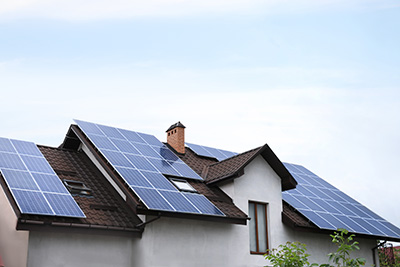 A qualified solar installer can help you decide which panels are most appropriate for your specific installation. The cost of solar equipment varies by manufacturer and model, and competition among solar installers adds even more cost variables depending on where you live, but for the typical residential rooftop project, the most common decision is between the higher cost, higher efficiency monocrystalline panels and the lower cost, lower efficiency polycrystalline panels. Here are the major factors to consider when comparing different types of solar panels.
Cost. As stated above, monocrystalline solar panels are generally more expensive than polycrystalline solar panels, but they also tend to last longer and come with longer warranties. The difference in price may also be negligible depending on the manufacturer, model and number of panels in the installation. Thin-film cells are often cheaper than polycrystalline panels, but these costs can also vary depending on the manufacturer. CdTe and a-Si film are comparably priced, with CIGS film costing more. Another factor to consider is that thin-film cells are so lightweight, they can sometimes be installed faster and with less mounting hardware, which can reduce installation costs.
Efficiency. Monocrystalline solar panels top the list with efficiency ratings between 15 and 20 percent, and sometimes higher. Polycrystalline solar panels are close behind with efficiency ratings between 15 and 17 percent. Thin-film cells rank lower, with 13 to 15 percent efficiency for CIGS film, nine to 11 percent efficiency for CdTe film and six to eight percent efficiency for a-Si film.
Space. How many solar panels to include in your home is one of many major decisions you'll encounter when installing solar panels. If you have limited space for solar panels, monocrystalline panels may be your best bet, because their high efficiency rating ensures you will get the most energy generation per square foot. On the other hand, if you have lots of available space, filling it with less efficient panels may generate sufficient electricity for your needs while saving you a bundle in upfront costs.
Roof type. All of these solar panel types can be installed on the average residential roof, but if you're concerned about weight distribution on your roof, you should thoroughly investigate your thin-film cell options. The versatility of these lightweight, flexible materials means they can be installed in places where heavier crystalline panels are impractical. This includes solar shingles, which mimic the appearance of a traditional shingled roof.
Climate. High temperatures can have a negative effect on solar panel efficiency, so if you live in an especially warm environment, you should weigh this factor more heavily. Thin-film cells, while less efficient than crystalline panels, are more resistant to the negative effects of heat than crystalline panels. But the powerhouse monocrystalline solar panels are also fairly heat resistant, and with their higher efficiencies, they may perform best overall, especially in smaller installations. Polycrystalline solar panels fare the worst in extreme heat, and may therefore not be a smart choice for the hottest environments.
| | | | | | |
| --- | --- | --- | --- | --- | --- |
| | Cost | Efficiency | Space | Roof type | Climate |
| Monocrystalline | Most expensive | 15 to 20 percent | Best choice for small spaces | Good for most roofs | Good performance in hot climates |
| Polycrystalline | Cheaper than monocrystalline | 15 to 17 percent | Good for large solar arrays | Good for most roofs | Worst performance in hot climates |
| Thin-film | Often cheaper than polycrystalline; depends on type | Six to 15 percent; depends on type | Good for large solar arrays | Best choice when weight is a concern | Most resistant to hot climates |
No matter what type of solar panels you ultimately choose for your residential rooftop solar installation, you'll be making an investment in a cleaner planet and lower energy bills. Consult with your solar installer and consider these variables to identify the solar panels that make the best fit for your roof, climate and budget.
What Are Solar Panels Made of?