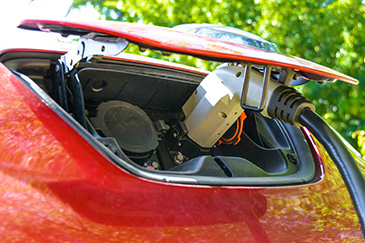 Electric cars have a reputation for being green, but are they really?
It's true that electric cars produce virtually zero emissions while they're being driven, as opposed to gasoline-powered cars that can produce significant amounts of greenhouse gasses. Those greenhouse gas emissions get trapped within our atmosphere, raising its temperature and producing a range of harmful effects that include extreme weather and sea level rise. So it makes sense that electric cars would be considered better for the environment.
But the electricity required to charge electric car batteries has to come from somewhere, and if it doesn't come from clean sources, electric cars may end up simply generating greenhouse gasses by being charged rather than being driven. Additionally, the batteries in electric cars must be manufactured with rare metals that require a lot of energy to extract, resulting in a carbon footprint for electric car manufacturing that is larger than that of most gas-powered car manufacturers. And when these batteries reach the end of their life cycles, recycling them poses another set of environmental challenges.
So how do these effects balance out? Let's take a look.
Carbon Footprint of Electric Car Charging
Most electric car drivers plug in their cars to charge overnight. And while this might seem like a zero-emissions activity, it's not that simple. The electricity flowing into the car battery comes from the electrical grid, and the electricity flowing into the electrical grid comes from a variety of sources.
According to a study by the U.S. Department of Energy, 40 percent of our electricity production came from natural gas, a fossil fuel, in 2020. 19 percent came from coal, and one percent came from petroleum, which are also fossil fuels. 20 percent came from nuclear power, and the remaining 20 percent came from a mix of renewable energy sources like hydropower, wind and solar.
Nuclear power and renewable energy are clean sources, adding minimal greenhouse gasses to the atmosphere. But fossil fuels release greenhouse gasses when they're burned, even if the resulting electricity eventually flows into a zero-emissions electric car. So while driving an electric car may feel green, the process of charging the battery is almost always a mix of clean and dirty energy production.
This environmental impact is felt unevenly across the U.S., as some areas of the country produce more clean energy than others. Fortunately, electricity generation from renewable sources is expanding rapidly, gradually replacing the use of fossil fuels. So while the process of charging an electric car may not be completely green today, we're constantly getting closer to that goal.
Carbon Footprint of Electric Car Manufacturing
Besides the matter of how cleanly we generate electricity, there's also the matter of how we produce electric cars themselves. Specifically, the electric car battery is a significant environmental concern. This is because the manufacture of these powerful batteries requires lithium, cobalt and other rare metals, and the process of mining these metals can cause more environmental damage than many processes involved in the production of gas-powered vehicles.
However, research has shown that the environmental impact of EV manufacturing is quickly offset by the decreased lifetime emissions of EVs. Also, electric car manufacturers are always working on new battery designs to reduce their environmental impact.
Electric Car Battery Disposal