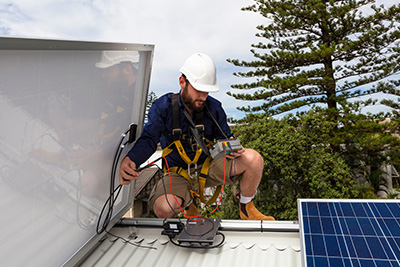 Estimate Solar Panel Efficiency and Output
The last factor to consider is the energy output of the solar panels themselves. There are a few different types of solar panels, including monocrystalline, polycrystalline and thin-film. Monocrystalline solar panels are made from single silicon crystals, which makes them the most efficient of the bunch, but also the most expensive. Polycrystalline solar panels are made by melting down silicon fragments and pouring them into molds, making them cheaper, but slightly less efficient. Most thin-film solar panels are less efficient than polycrystalline, but are typically only used in commercial rooftop installations or situations that demand extremely lightweight panels.
So, how much energy does a solar panel produce? Most residential rooftop solar panels generate somewhere between 250 and 400 watts of electricity during peak sunlight hours. If you want a more specific figure on which to base your calculations, you can reach out to a local solar installer to ask about the output in wattage of the various types of panels they offer.
How Many Solar Panels Does it Take to Power a House? 
Now you can complete a rough calculation of the number of solar panels it will take to meet your typical energy needs. Start by multiplying the wattage output of your prospective solar panels – let's call it 300 watts — by the number of hours of usable sunlight per day. Let's call that four hours.
300 watts x 4 hours = 1,200 watt-hours
1,200 watt-hours, or 1.2 kWh, is the amount of electricity you can expect to get from a single solar panel in a typical day. To find out how many you will need to power your entire home, take your daily average kWh consumption – let's call it 30 kWh, which is close to average – and divide it by the kWh of a single panel.
30 kWh / 1.2 kWh = 25
So, using these figures, it would take 25 solar panels to generate the amount of electricity needed to completely offset the average electricity needs of a home. Fortunately, our solar calculator does all of this for you. 
Talk to the Pros
Keep in mind that you don't need to completely eliminate your electricity bills to justify an investment in solar. Your home will usually still be connected to the electrical grid, and installing fewer solar panels than the number you calculate can still reduce your monthly bills by a significant amount. You should also remember that since these estimations are based on averages, you will probably use more electricity than you generate on your highest energy consumption days, or when extreme weather forces you to use more electricity than usual.
When you consult with a prospective solar installer about the cost of solar panels, energy outputs and options of your solar installation, you can discuss the number of panels and the implications of increasing or reducing that number. This can affect the size of your potential savings as well as the estimated amount of time it will take for your solar panels to pay for themselves, and you might find that the number of panels that best fits your needs is different from your rough calculation.